Add Some Dirty Soul to Clinical Video Footage: a FCPX Plugin by Lintelfilm
UPDATE: We've now had the honour of being featured on FCP.co and received personal endorsements from both Hollywood's premier Final Cut Pro editor Mike Matzdorff ("Really like the swirly effect at the edges, reminds me of my old USSR glass on my Leica") and from the one and only Richard Gale of Dog Schidt Optics ("Love it man ... Wish it was cross platform" [Rich is a Premiere Pro user])!
Richard Gale's humorously named lens-modification company Dog Schidt Optics has found great success offering filmmakers glass that gives the often clinical and sterile look of digital video a bit of organic soul. However, it's not always practical to use old prime lenses with fixed apertures and "baked-in" optical "flaws." So we've created a plugin for Final Cut Pro X that offers the option of adding a similar organic feel at the postproduction stage. In honour of Richard's pioneering D.S.O. brand, we've decided to call our new plugin Dawg Pü.
Dawg Pü is an effects plugin for FCPX that mimics "desirable" characteristics of old, bad, damaged and/or modified lenses. It is designed to give footage shot with clinical modern glass a organic, analogue feel. It is not a "film look" effect and is designed to be used in addition to (usually after) any other colour correction and/or grading.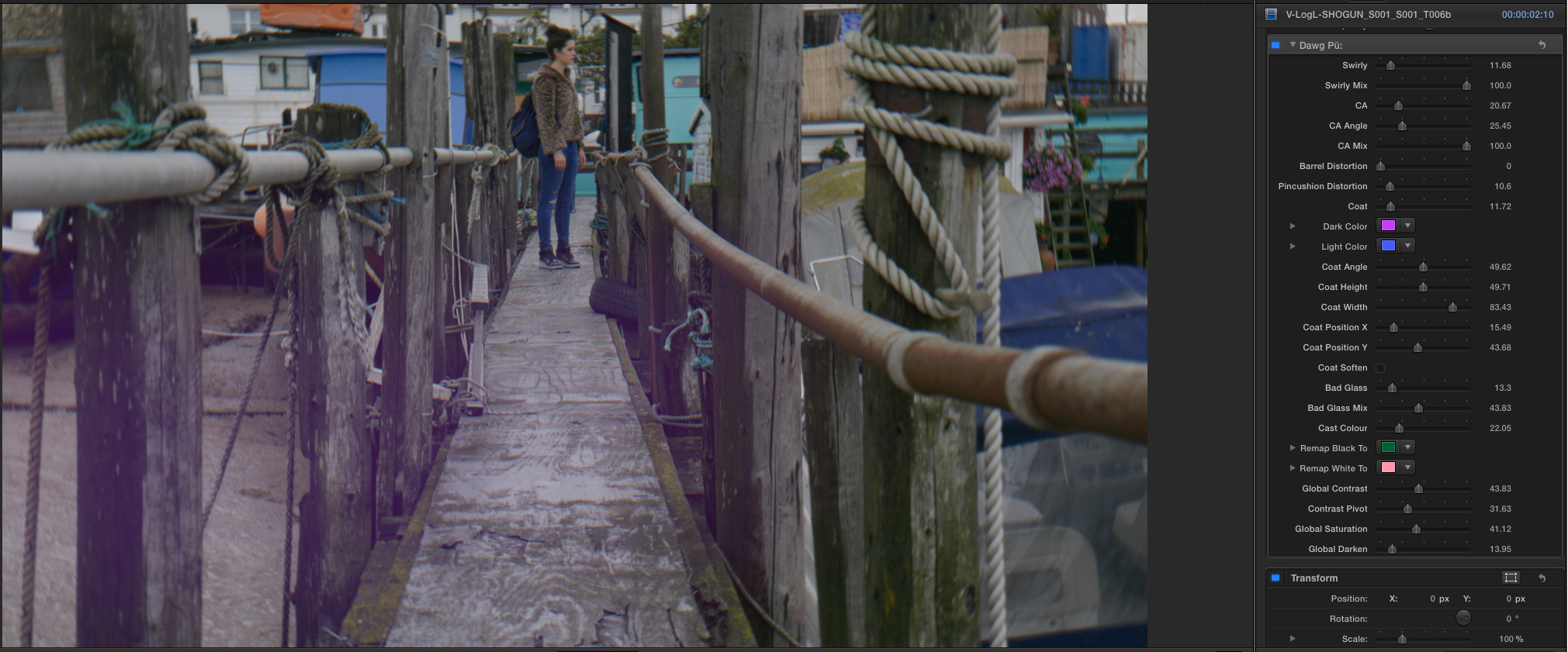 USING DAWG PÜ
To install the plugin: expand the ZIP archive and add the folder to the Effects folder in the Motion Templates folder in the Movies folder of your home directory (~/Movies/Motion Templates/Effects). If you don't have Motion installed, you won't have a Motion Templates folder in your Movies folder. Download this set of empty folders and add them to the Movies folder of your home directory (again after expanding the zip archive).
I recommend using each variable of the effect in moderation. The FCP 10.2 update allows masks to be applied to all effects. I recommend applying an inverted mask with a wide falloff to Dawg Pü if you want a subtle effect that mimics "characterful" corners (or of course if you wish to keep specific areas of the image clean). However please note that the Barrel Distortion and Pincushion Distortion effects may create unwanted artefacts if used in conjunction with masks.
The Coat effect and it's numerous variables probably requires a little practice to master. I'd use the Height and Width sliders first to get the size of flare you want (please note that the Coat effect is not animated).
Enjoy giving your footage a bit of dirty soul!
Please note that neither Lintelfilm or Dawg Pü are in any way related to or affiliated with Dog Schidt Optiks or Richard Gale - the choice of name for the effect is just a bit of fun!
The stills of the woman on the pier are taken from Nick Driftwood's ungraded GH4 V-Log L beta sample footage, from his film Swim to Land (graded by me). Thanks Nick. Hurry up Panasonic!
The image used in the video is from my own footage.